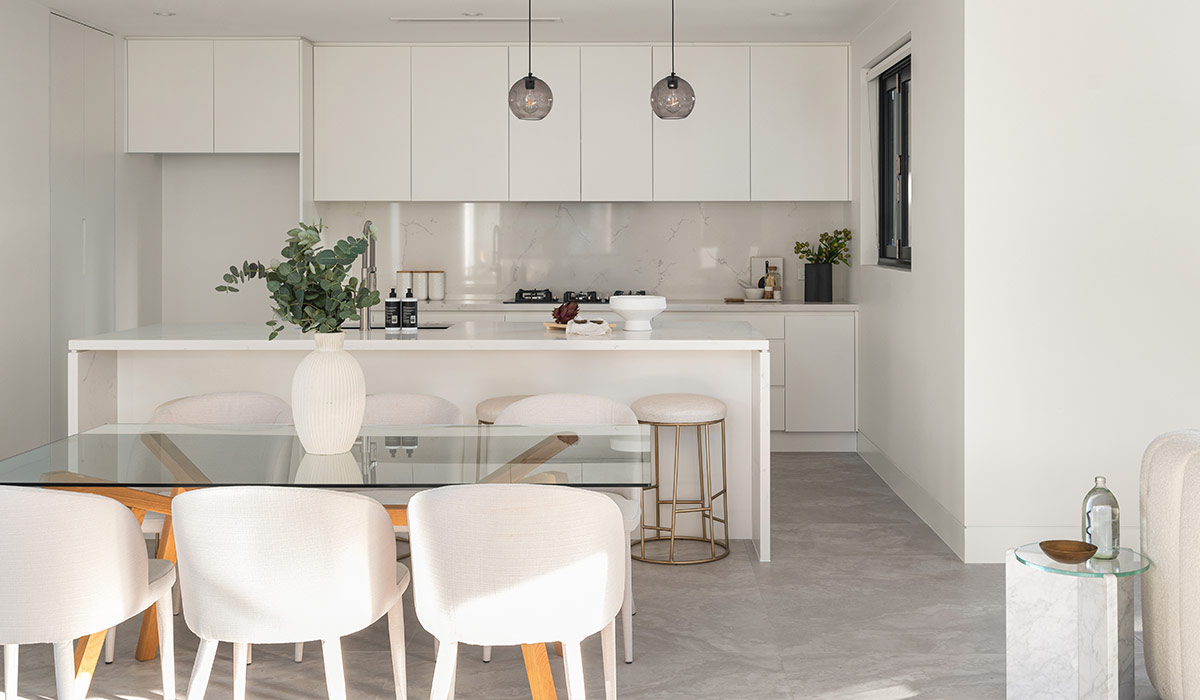 Timeless Elegance: Traditional Home Staging & Styling Tips
06 Nov 2023 by

When it comes to getting the best price for your traditional home, making a great first impression on your buyers is key — and expert styling and staging helps you do just that.

But what exactly goes into staging a traditional home? Let's find out!
The importance of expert styling and staging
First things first — how does staging a traditional home significantly boost its market value? The short answer is it makes it more desirable to prospective buyers, and when demand goes up, the price goes up with it.
But how exactly does expert staging and styling make your traditional home more desirable? Let's take a look:
It makes your property feel like home

— An empty or poorly maintained home can feel cold and uninviting. In contrast, a well-staged home, like

the ones in our portfolio

, can make prospective buyers feel at home right from the get-go. This makes it easier for them to picture themselves living there.

It makes your home more desirable

— Think of it like makeup. The idea is to find the

traditional interior designing style

to highlight your property's best features and draw attention away from any flaws.

It makes your home more photogenic

— Properly

staging a traditional home

also makes it look better in photos, which when posted online, makes it easier for you to get prospective buyers to visit.

It makes prospective buyers more emotionally invested

—

Studies show

that emotion plays a huge part in people's buying decisions. As we've seen earlier, a good

traditional interior designing style

connects to prospective buyers on an emotional level, making them feel right at home the moment they step in.
Now that we've established just how crucial of a role proper staging and styling are in increasing the value of homes, let's take a look at the things you can do to make yours irresistible to prospective buyers.
9 easy tips on styling and staging a traditional home
Whether you're looking to stage a brand-new property or style a lived-in home for selling, the techniques you use are practically the same.
Go neutral

— To achieve a truly

traditional interior designing style

, you need a neutral base to work with. So, paint your walls in soft, neutral tones like beige or a light cream. This creates a versatile backdrop that's not only a breeze to build on, but also appealing to a wide range of prospective buyers.

Accent key features

— Emphasise the traditional charm of your home by showcasing its trim, crown moulding, wainscoting and other interesting architectural features using a contrasting colour of paint.

Declutter

— Remove all unnecessary items that take away from the overall effect you're going for. The goal is to make prospective buyers picture how amazing it would be to live in the property and not worry about things like clean up and maintenance.

Invest in quality lighting

— You can use traditional chandeliers or sconces to add a touch of elegance and warmth to your property, as well as drawing the eyes of prospective buyers to the features and spaces you want them to focus on.

Use classic furniture

— Choose timeless, traditional furniture that complements the style of your home. Pieces like wingback chairs, wooden dining tables and antique-inspired decor work great for this purpose.

Create symmetry and flow

— Arrange your furniture in a way that creates symmetry, maximising the flow of the room and highlighting its functional aspects.

Layer textures and patterns

— Add a touch of depth, visual interest and warmth to the spaces in your home using plants, flowers, throw cushions, curtains, area rugs and textiles with textures and classic patterns like paisley or toile.

Showcase your hardwood floors

— If your traditional home has hardwood floors, make sure it's in top condition. Consider refinishing them to bring out their natural beauty before putting your property on the market

Don't forget the exterior

— Boost your traditional home's curb appeal by maintaining a well-manicured lawn, adding potted plants or window boxes, and repainting the front door in a traditional colour like deep red or navy blue.
Of course, while these tips may seem simple at first glance, putting them into practice can be challenging, especially if you're a complete beginner — which is why it's a good idea to let a professional take care of the whole thing for you.
The benefits of hiring a professional property stylist
Hiring a professional property stylist to handle your styling and staging needs gives you access to:
Expert insight

— Professionals like our team at Adore Property Styling know exactly what to do to make your property more appealing to a wide range of prospective buyers.

A more objective perspective

— A professional has no personal attachment to the property. This means they're often in a better position to make more objective decisions on how to better present your property to potential buyers, rather than acting on sentiment.

Time-savings

— One of the biggest benefits of hiring a professional to take care of everything for your property styling and staging is that it frees you up to do other things. All you have to do is say what you want, and they'll handle the rest.
Of course, these benefits come with a price. The good news is that professional styling and staging doesn't have to cost a fortune, which brings us to our next point:
Professional styling and staging on a budget
The easiest way to save money on getting your traditional home ready for selling is to go the partial property styling and staging route.
This could mean focusing on just a few rooms, giving the property a fresh coat of paint, removing clutter around the property, adding accent pieces or any combination of these things. The idea is to find a way to create the biggest impact using whatever budget you have.
Some tips to ensure a successful partial styling include:
Focus on key areas

— Pinpoint the rooms and spaces that have the most potential to make prospective buyers fall in love with your property and focus on making those look as attractive as possible.

Highlight features

— Be sure to highlight the best features of the property using furniture, lighting and decor.

Choose quality over quantity — Invest in quality pieces and finishes for the areas you are styling instead of spreading the limited budget too thinly across the entire property. High-quality furnishings in key areas will elevate the overall perception of the property.
Choose a flexible property stylist

— When it comes to partial styling, cookie-cutter solutions just won't cut it. You need someone who can tailor their services to your specific needs and budget to achieve the best possible results.
Increase the value of your home today with Adore Property Styling
Let our team of expert property stylists help you make your brand-new or lived-in home more desirable to more prospective buyers. Using our tailored styling and staging solutions, we'll make sure your property not only stands out but is also in the perfect position to fetch the highest price possible — all without breaking the bank, thanks to our Style Now, Pay Later offer.
Getting started is easy. Simply book a complimentary no-obligation consultation with one of our expert property stylists to get an initial in-person assessment of your property along with a quote.
Book your free consultation today, or check out the FAQs to learn more about our process and how we can help turn your home into one of the most in-demand properties in the area. Don't forget to check out our blog for more helpful styling tips.
Related Posts